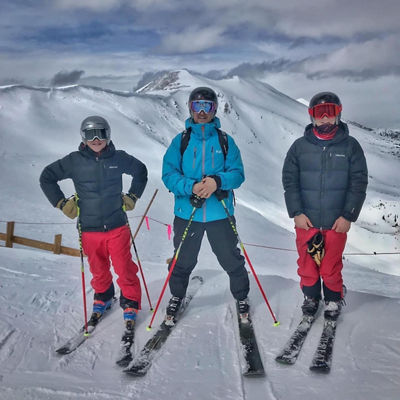 By Pamela Hoye
Snowy weekend getaways are the best winter getaways. I always vote snow over warm temps. Cozy fires and whiskey cocktails, beat sandy shoes and heat waves any day in my book. And it's the perfect way to truly embrace the season.
If you are typically an East Coast dweller, here is a coast-to-coast break down to plan a 'Play by Day' and 'Cozy up at Night' weekend escape, all on the Epic Pass.
Romantic Getaway: If you love Stowe, try Beaver Creek.
The East: If you are desperately seeking a romantic escape, the sheer mention of Stowe conjures the wintery backdrop that dreams are made of. And it is all true. Live your best version of a Lifetime movie by booking time at Stowe. Explore the shops, sip on cocktails, and seek out iconic photo opportunities that will trend on your IG account.
Stowe superlative outdoor winter recreation at the mountain spans from skiing and riding the East's most unique trails, to ice skating in the living postcard that is the Spruce Peak Plaza, to reaching new heights in the one-of-a-kind 'Stowe Rocks' climbing gym within the resort's Adventure Center. Rich in history, steeped in luxury and surrounded by breathtaking beauty, Stowe Mountain Resort is truly the bucket-list New England ski destination.
The West: Beaver Creek has a similar romantic backdrop. After a day on the slopes, end your day with a signature warm cookie and tuck yourself into one of the many après options available in the village area. Wear your favor fur boots and take in the lights from the skating rink that anchors the center of the village. Your partners gaze will never look dreamier.
Family Fun: If you love Okemo, try Keystone or Northstar.
The East: The Northeast is filled with family-friendly ski adventures.
Okemo Mountain Resort is a home-away-from-home for Northeast skiing and snowboarding families. Its superlative snow coverage and consistent quality of conditions, combined with variety of terrain for all abilities, makes it the best choice when winter is in its full glory … and on those occasions when New England weather can be mischievous. Okemo can cover 98 percent of its trails with snowmaking, and offers plenty of alternative activities too, like ice skating, snow tubing and a mountain coaster. Most of all, though, Okemo is known for its staff friendliness and warm welcome to all.
The West: At Keystone Resort, it's all about fun. Keystone is a family adventure where they young and young at heart can discover the magic of exploring the mountains. The resort boasts more than 3,000 acres of skiable terrain including three incredible peaks, five above-tree-line bowls, night skiing and an on-mountain Snow Fort. Home to the industry's-leading Kids Ski Free program, kids 12 and younger can ski and ride for free every day, all season long with just two or more nights of lodging booked through the resort. Convenient touches like free parking and complimentary red wagons for carrying gear and excited kiddos, make getting to the slopes that much easier.
Further West: Enjoy a magically relaxing getaway at Northstar Ski Resort. Northstar is the perfect place to find that sense of calm and enjoy the ideal mountain getaway. Between fireside hot cocoas with your family and awe-inspiring mountain views, you'll find an estimated 350 inches of annual snowfall and perfectly groomed runs that you'll day dream as your vacation for years to come.
Local tip: Celebrate the end of ski season with a week full of family friendly activities – whether its snow volleyball or face painting, you will find something for everyone.
Thrill Seekers: If you love Wildcat, try Kirkwood.
The East: Locals know that Wildcat is the most scenic and adventurous resort in the East! Located in the White Mountains of New Hampshire, Wildcat Mountain Resort is home to more than 2100' of vertical directly facing Mount Washington, the highest peak in the Northeast. Known for challenging and powder-friendly terrain, Wildcat is also a beginner's heaven with the longest green circle trail in the East, stretching over 2.75 miles. Typically opening in early November, the resort stays open through late April, giving Wildcat the longest season in New Hampshire for the last 14 consecutive years.
The West: True adventurous snow seekers know that Kirkwood is where the steep and deep produces hair-raising cliff drops, bumps and open bowls ensuring your legs feel like jello when lifts close at 4 pm.
2,300 acres of terrain and over 2,000 feet of vertical provides an outdoor playground any serious skier and snowboarder will want more and more of. Kirkwood's rugged terrain and deep snowpack beckons all shredders for steep lines they won't soon forget.
I hope this round up sparks wanderlust. See you on the slopes!
Pam Hoye is happy to offer advice about her experience packing up a family for a ski trip, but her real expertise is après. As a self-proclaimed 'chardonnay skier' (ie: take a couple green/blue runs and then head in for a glass of chardonnay) she has fully embraced the Laidback Ski Lifestyle. She is passionate about getting more newbies on skis, especially adults. As someone who learned how to ski later in life, she believes with all her heart that there is spot on the mountain for everyone.