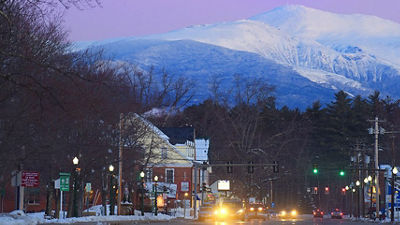 The #1 ski town in America and it is in our backyard!
Nestled within the scenic White Mountains of New Hampshire and only minutes away from Attitash & Wildcat Resorts is the iconic New England town of North Conway. North Conway is approximately 20 minutes east from both Attitash and Wildcat Mountains along Route 16/302.
North Conway has long been associated as a top New England destination in both the winter and summer months. National and Global publications have taken noticed and within the last few years North Conway has received some wonderful accolades.
Visitors off the slopes can explore the town's unique and beautiful New England charm. North Conway is home to a historic downtown featuring a beautiful town green Schuler Park highlighted by the iconic North Conway Scenic Train Station that used to be home to the Ski Train from Boston! Small shops, restaurants, and galleries surround the center where shoppers can find unique gifts, souvenirs and more at stores like Zeb's Country Store, The Penguin and The Funky Bubble.
Also located in downtown is the Mount Washington Observatory Weather Discovery Center. A wonderful spot for both young and old as guests can view some of the research and photos from the scientists located on top Mount Washington's 6000' + summit. On certain days visitors can also speak to the scientists via a video feed directly into the Discovery Center.
Tax-Free Shopping at Settlers Green
Settlers Green opened in 1988 just as outlet shopping was taking off. The words North Conway and "outlet shopping" soon became synonymous in the New England region. Settlers Green is home to Coach Factory, Banana Republic Factory, Under Armour Factory, Nike Factory, J. Crew Factory and more.
Food, Drink, Pizza & Ice Cream!
North Conway has a variety of restaurants, small bistro's, unique coffee shop cafes & and a wonderful selection of roadside ice cream parlors and pizzerias for the kids. Locally grown vegetables, meats, and cheese can often be found in some of the area's top restaurants that take pride in farm to table dishes. White Mountain Cupcakery, Bavarian Chocolate Haus, Lickety Splitz, Spoons, and Ben & Jerry's also provide all the sweet tooth items you can imagine. Stop by Zeb's or the 5 & 10 for candy too.
Popular après ski stops and "watering holes" include Horsefeathers right in downtown as well as Delaney's Hole in the Wall, Moat Mountain Brewery, and May Kelley's!
Peaches, Frontside Coffee Roasters, The Met, and Sunrise Cafe all make for perfect breakfast stops.
Local Trails & Scenic Spots
Outside of North Conway's downtown you can find a number of trail heads and scenic spots. East West Road provides access to Cathedral Ledge, Echo Lake and Dana's Bath.
Along North South Road you can find Pudding Pond & Redstone Trail Heads that provide great access to a number of easy to moderate hikes and New England Mountain Bike Association (NEMBA) maintained trails.
Mount Washington Valley Chamber of Commerce
Our local Chamber of Commerce is a great spot to stop in to find maps, brochures and other attractions within our region. The office is located right in downtown North Conway across the street from the Conway Scenic Railway & Schuler Park.